Reopening For Kick-Off Weekend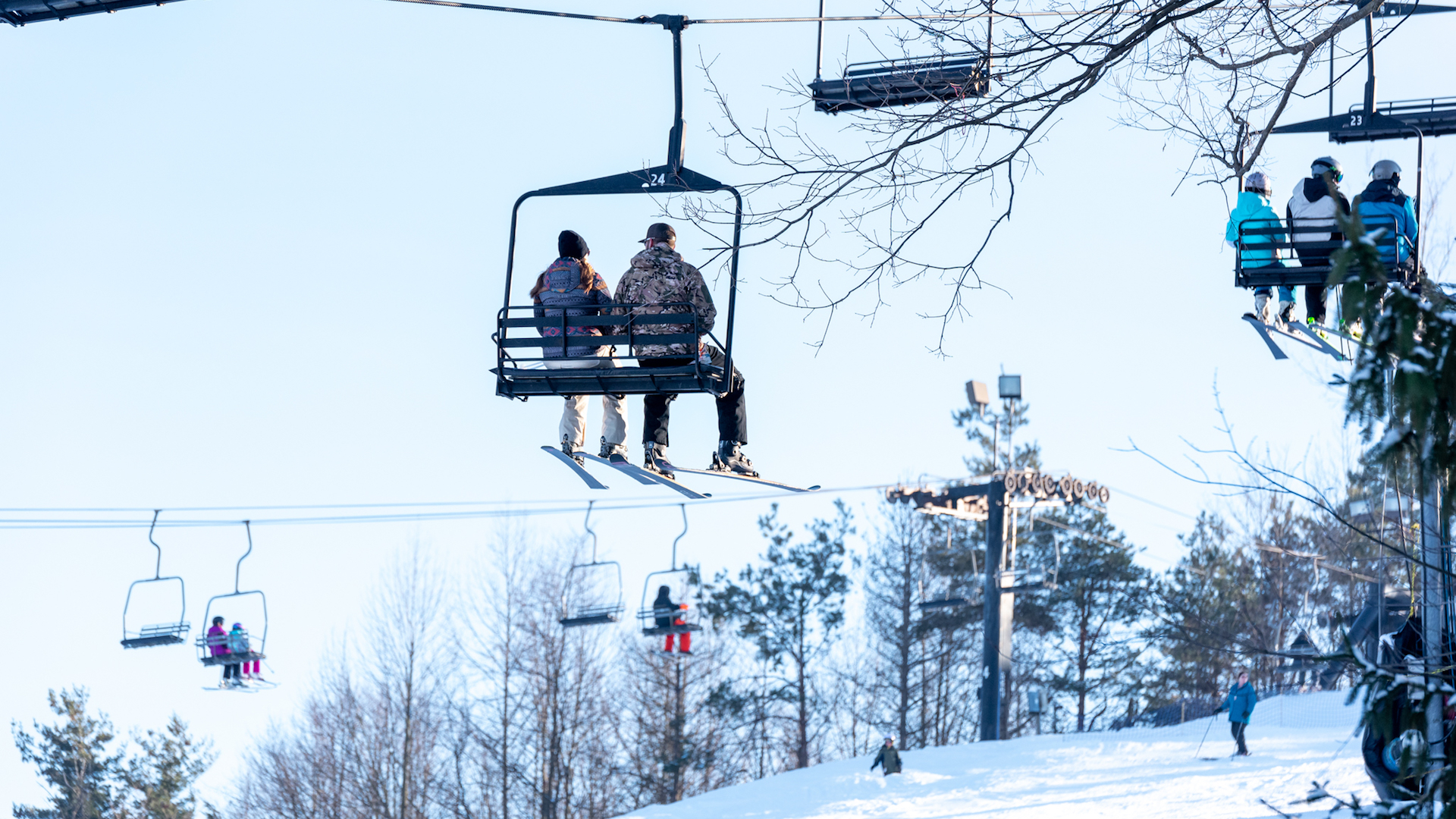 Snow Trails 59th Season Kick-Off Weekend for Skiing and Snowboarding will begin Friday, December 13, 2019 3PM- 9PM. We are targeting Opening Day for Vertical Descent Tubing Park to now be tentatively Saturday, December 21st at 5PM, offering Glow Tubing. Please check back for details.
59TH SKI SEASON KICK-OFF WEEKEND - SLOPES ONLY
Snow Trails Snow Report will list chairlift, slope, and terrain park availability each day.
FRIDAY, DECEMBER 13TH
3PM- 9PM
Special Pricing:
Lift Tickets $25 & Equipment Rentals $25
6-12yr olds Save $10 on each
5yrs & Under Free Lift Ticket w/Lift Ticket purchase and Save $10 on Equipment Rentals
Terrain Park Features Will Be Available:
The Park Crew will be putting something special together for you on Rustler again!
SATURDAY, DECEMBER 14TH & SUNDAY, DECEMBER 15TH
9AM- 9PM
Normal Pricing
Live Entertainment
Begins This Saturday, December 14th: Kick-Off Party w/Fu5ion Band
Every Friday and Saturday To Follow
Normal Hours & Rates Continue On Slopes Through Week and Beyond
Snowmaking may occur during operating hours, so be sure to bring your goggles or check-out the great selection in Snow Trails Ski Shop.
YOU MIGHT ALSO LIKE:
Snow Sports Lessons:
Group Lessons - Available for 9yrs & Up
Private Lessons - Available for All Ages
Semi-Private Private Lessons - Available 4yrs & Up
Children's Learning Center Opens For Season Beginning Dec. 14th
Reservations Now Available for your 4- 9yr old kiddos in our Children's Polar Programs

Dining Options:
The Last Run Bar & Deli - Will Be Open Offering a Full Menu
The Snowflake Loft Bar - Will Be Open with Your Favorites On-Tap!
Joe's Cafeteria - Will Be Open for Your Freestyle Dining Pleasure - Don't forget to check-out The Special Of The Day!
Snowmaking temps dipped into the teens this week to make it possible for reopening! We will continue to make snow into Thursday morning and then our Pisten Bully Snow Cat operators will fire-up the fleet again to get to work on the huge piles of snow we have made already. They will push and groom the snow with these specialized machines, shaping and grooming the slopes for Kick-Off Weekend and beyond.
Snow Trails can make better snow and more of it in Ohio, thanks to our Cooling Tower and the cold temps in the Possum Run Valley. This is your Ohio advantage, to keep the season going strong for you. Even when - knowing this is Ohio - temps fluctuate we will refresh the top layer of snow conditions to keep the snow fresh.
The Tower reduces the temperature of our snowmaking water by 13 degrees Fahrenheit before sending through our massive pumping system and out to each snow gun strategically positioned across the resort. This increases the window of opportunity as well as the volume and quality of snowmaking in marginal temperatures and below. Snow Trails Quality Snow Standard is set to provide you with the very best snow in Ohio.
We are currently holding hours in Guest Services if you need to get your locker or still need your Season Pass photos taken to avoid the rush when you want to ski. Need anything before you hit the slopes? Snow Trails Ski Shop is open now and stocked with 2020 gear, apparel, and accessories!
We are excited to have you back out here with us!
Can we follow along with your adventures out here? Use #SnowTrailsOH and Follow Us @SnowTrails
---
« Back to Beginners Area
« Back to General
« Back to Seasonal Clubs
« Back to Skiing