JUNIOR RACING PROGRAM
AKA - Possum Run Ski Team
Register online for Jr racing now!
Notice: A NASTAR ID is required register to race!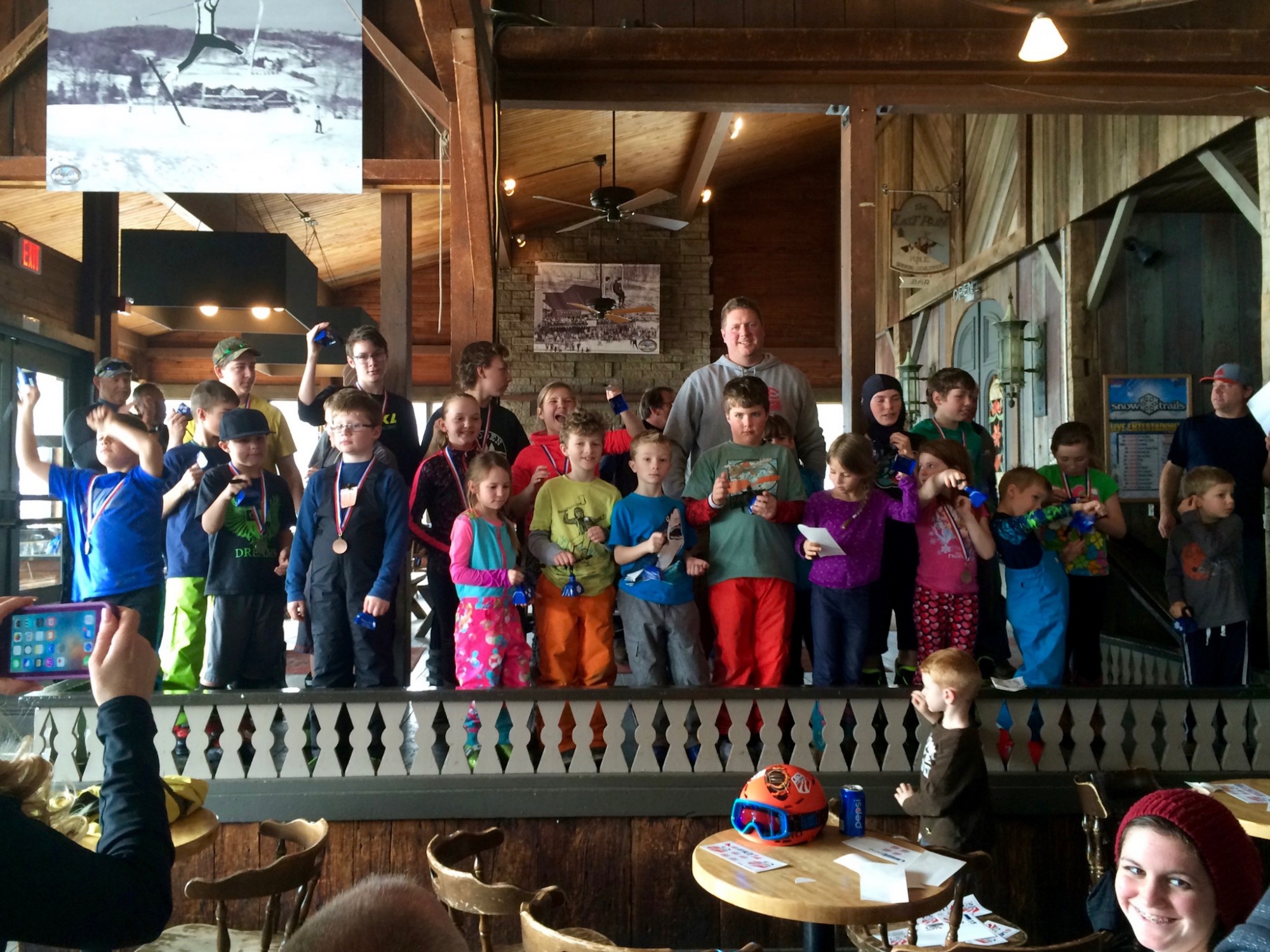 All skiers between the ages of 5 and 18, of intermediate ability or better, are welcome to participate in the Snow Trails Junior Racing Program. This is a volunteer program designed to assist junior skiers in developing good skiing fundamentals and ski racing skills. There is no cost for the program itself, but each participant must have a valid lift ticket or pass and are responsible for providing their own equipment, clothing and transportation. This program is staffed entirely by volunteer coaches, and parents are encouraged to help out and participate when needed. Our racing equipment (poles, flags, timers, etc.) have been purchased entirely with money raised from entry fees in our weekend races and camps, and all fees go back into the program.
New for 2021 is online registration for all races. There will be no walkup registration. online choices include a lift ticket & registration or just registration only. A NASTAR number is required for REGISTRATION and a waiver must be accepted during the registration process.
Children who cannot ride the chairlift by themselves must be accompanied on the lift by a responsible family member or designated adult.
Racing practice sessions are held on Tuesday and Wednesday evenings from 6:00 p.m. until 8:00 p.m., weather and skiing conditions permitting. Although a racer is not required to attend all practice sessions, it is expected that racers enrolled in the program who are at the ski area during practice times shall participate in the session. All racers are subject to the rules and regulations of the ski area and the coaching staff reserves the right to exclude a skier from the program for any misconduct or offensive behavior. Practice courses are reserved exclusively for junior ski team participants, parents and coaches.
If you have completed and returned a signed Release form, your email address will be on our distribution list and notices, such as cancellations, are communicated through email. We are also developing a mobile app for this purpose. A schedule of races will be distributed or can be obtained at the customer service desk and the Snow Trails Website (see above link).
Release forms may be obtained from the Guest Services Desk located in the Main Lodge as well as the Snow Trails Website (see above link), and should be returned to Guest Services in the Main Lodge. For further information, contact coaches:

Duffy Carto (419) 756-0078 or (419) 524-9811 ext. 34
Rod Staker (419) 884-3239 or (419) 524-1616
Rick Heckert (419) 756-7700