WINTER EMPLOYMENT
GREAT FRIENDS. GREAT FUN. A GREAT PLACE TO WORK. SNOW TRAILS.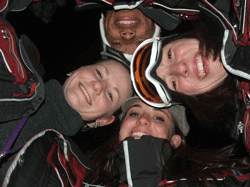 Each fall hundreds, from all over North Central Ohio, are accepted to work at Snow Trails for the Winter Season. Most positions fill quickly, so act fast if you would like to submit an application to become a part of our team. Different departments hire at different times. Some will be making calls beginning in early October, while others will still be hiring through December. Please apply now and look to hear back from us then.

HIRING IN ALL DEPARTMENTS including:

Food and Beverage (ages 16+)
Guest Services (ages 18+)
Ski Check (ages 16+)
Lift Operations (ages 16+)
Terrain Park (ages 16+)
Tubing Park Staff (ages 16+)
Rental and Ticketing (ages 16+)
Snowmaking/Maintenance (ages 18+)
Snow Sports and Children's Programs (ages 16+)
Custodial/Janitorial (ages 18+)
Become a Ski Patroller (ages 18+)
At Snow Trails we truly value our employees. To show our appreciation we offer some of the greatest perks around:
FREE SKIING & SNOWBOARDING - we want our employees to enjoy the resort as much as we do! Not only do you receive a FREE Associates Season Pass, but you also have the opportunity to receive free rentals and lessons.
DISCOUNTED MEALS - in Joe's Cafeteria here at the resort.
FLEXIBLE SCHEDULES - will allow you hours of work based on your availability.
WINTER JACKETS - provided to Employees in Outdoor positions. Frequent Rotations with Indoor Warming Breaks.
FUN RESORT ATMOSPHERE - nothing quite like it around!