SNOW TRAILS QUALITY SNOW STANDARD
Snowmaking plans are based on forecasted temperatures in the upper twenties and evaluated on how long they will hold there or below each night. This allows Snow Trails 2nd and 3rd Shift Snowmaking Crews to be ready to power-on Snow Trails Massive Snowmaking System around Thanksgiving each year. Snow Trails season typically runs December through mid-March.
It is all about ambient temperature and relative humidity and how they will change within a given ten day forecast. We look for a Wet Bulb Temperature, which is a calculation of ambient temperature around 29 degrees Fahrenheit or below and relative humidity of 60% or below, to produce Snow Trails Quality Snow Standard we hold ourselves to and one many have come to expect.
Average Annual Snowfall: 52 inches (No worries. We rely more on snowmaking machines to provide consistent coverage.)
Snowmaking Capacity: 5,500 gallons per minute, which equates to 330,000 gallons of water per hour delivered through 3+ miles of 4" to 16" welded steel underground pipe. The water is sourced from our 5 water wells up through 16" casings and delivered through our Cooling Tower and into our Snowmaking Pond, then out to each Snow Gun lining the Slopes and Parks. Capable of covering almost three average slopes (6 acres) with 5" of man-made snow base in 24 hours at full capacity with an average temperature of 25 degrees and less than 65% relative humidity.
In 12 hours @ 28 degrees F we can cover over 6 acres with 1" of snow
In 12 hours @ 26 degrees F we can cover over 13 acres with 1" of snow
In 12 hours @ 24 degrees F we can cover over 18 acres with 1" of snow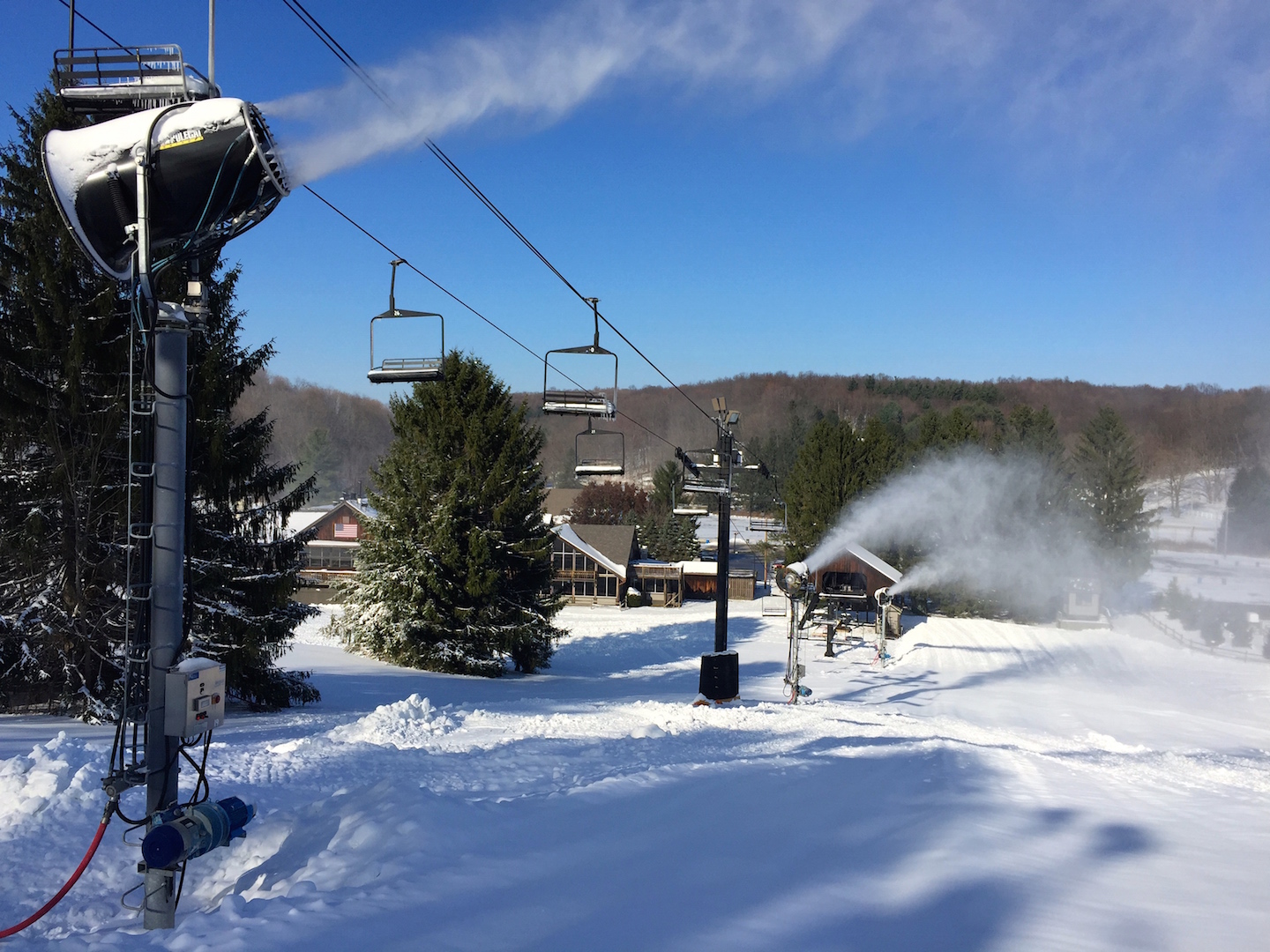 Though the snow is machine made, there is nothing fake about it... we are simply using the same natural process of freezing water into snowflakes, only to accomplish this we pressurize water and send it through three plus miles of 16" underground welded steel pipes to state-of-the-art SMI Super Pole Cat Snow Guns that are equipped with small nozzles around the rim of each gun. This breaks the water into tiny particles that are then blasted into the air with a giant fan blade at the back of the snow gun. Once these tiny particles of water are airborne, they freeze quickly, producing a volume of snow more consistent than natural snowfall. This process ultimately produces a snowflake with the least amount of moisture, making the perfect snow to carve turns on skis and snowboards.

Your advantage for skiing great snow is thanks to our Snow Trails Snowmaking System Cooling Tower. In Ohio's frequent marginal temperatures, it first lowers the temperature of water supplied from our holding pond and water wells, by an average of 13 degrees Fahrenheit before the over four-thousand gallons of water per minute is pumped out to each snow gun. This plays a major role in reducing "cure time," meaning how fast the water molecules can freeze into snowflakes after being shot into the air from a snow gun. This allows for higher "quantity" and "quality" of snow to be made during each snowmaking campaign.
Once the snow is produced, our fleet of four Pisten Bully Snowcat Groomers make their way across the resort to push, spread, and lay down a fresh groomed corduroy surface of snow for Winter Fun Skiing, Snowboarding, and Snowtubing!

Snow Trails, which was the first commercial ski area in Ohio, is a privately owned resort, under the same management since inception. The resort features six chairlifts, including a slow moving Beginner's Double Chairlift and two ski carpets dedicated to the Beginner's Area Complex, and a third carpet lift utilized for the Snow Tubing Park with the "Longest Tubing Lanes in Ohio." Two of the most recent Trails added one being Timberline - "Longest Trail in Ohio" - and The Chute, bringing total Trails to 19, with three glade ski areas, plus Five Terrain Parks. A 9,000 sq. ft. Rental Center houses user friendly equipment and offers a self-service system. Snow Trails typically opens in early December and the season lasts into March.