Extended Hours This Holiday Weekend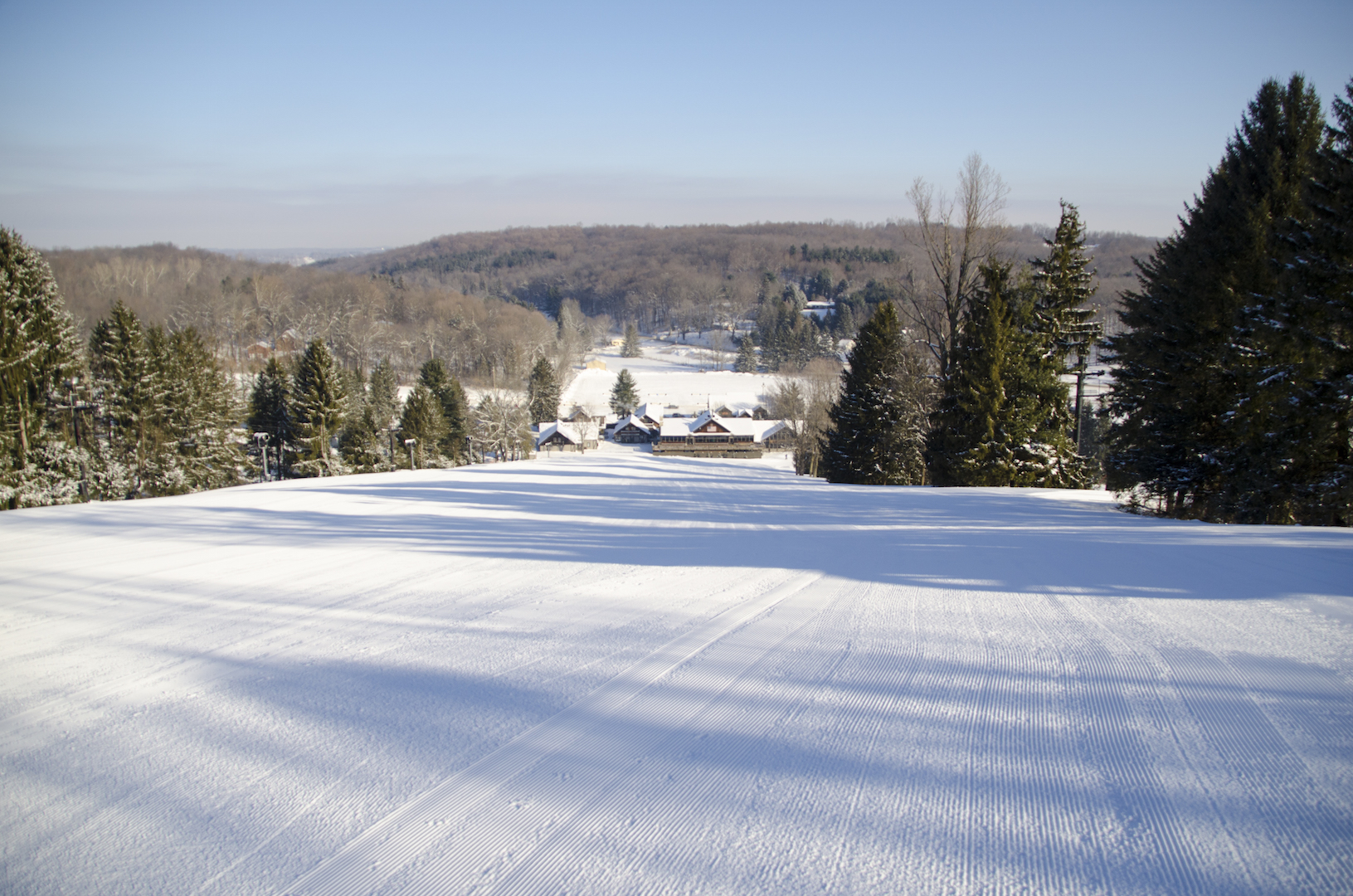 We hope you will celebrate the fun of skiing, snowboarding, and snow tubing, with us here at Snow Trails this Presidents Day Weekend! We will be offering extended hours on the Slopes and in Vertical Descent Tubing Park!
It's a great time to learn to ski or snowboard with us. Our friendly Snow Sports Instructors are ready to introduce you to your equipment and the fun you can have on-snow with your "Let's Get Started" package from our Rental Center. Conveniently located at our Beginner's Area Complex, you will find all the equipment you will need and it is sized specific to you by our certified Rental Technicians. If you are looking to further your skills and technique our Group and Private Lessons are offered throughout the day. A Group Lesson is only $10 Bucks! All Levels are offered.
Plan your families adventure this holiday weekend with our convenient online Children's Programs Reservation system to ensure your 3-9 year old's space in the program and give us the ability to size and set their equipment prior to your arrival, so they are ready to enjoy their all-inclusive Polar Cub and Polar Bear Programs.
We will start the weekend off early this Friday, February 13th with Late Night at Snow Trails, staying open 'til 2AM on the slopes. Vertical Descent Tubing Park will also stay open 'til 2AM this Friday! If you've been practicing in the Terrain Parks you may want to check-out the Slopestyle Competition prior to, beginning at 7:30PM in The Woods Terrain Park. Celebrate with your Valentine this Saturday out here at the Resort and Party in The Snowflake Loft with DeVault Ridge Band at 9PM. Grab a local hotel room, rest-up and get ready to head back Sunday and Monday for more fun out here with us!!
The Tubing Park is definitely a family favorite if you are looking for outdoor winter fun on-snow, especially when you won't find any in your backyard. Snow Tubing is the most fun you can have with friends and family in the winter! One of the best parts is every single friend/family member can participate together, no matter the age or ability. With adult single and double tubes, plus kiddie tubes, there is a snow tube for everyone!! You will find the Tubing Park is best equipped for ease of use and tons of fun...especially thanks to the conveyor carpet lift ride that takes you to the top! No dreaded uphill trek like required with sledriding!!
Need some ski or snowboard gear, warm hats, gloves and/or apparel for the weekend? Save with Snow Trails Ski Shop Presidents Day Sale.
Questions? Please Contact Us and we will get back with you as soon as possible. This will be a fun-filled weekend amongst friends and family!! Join us out here!!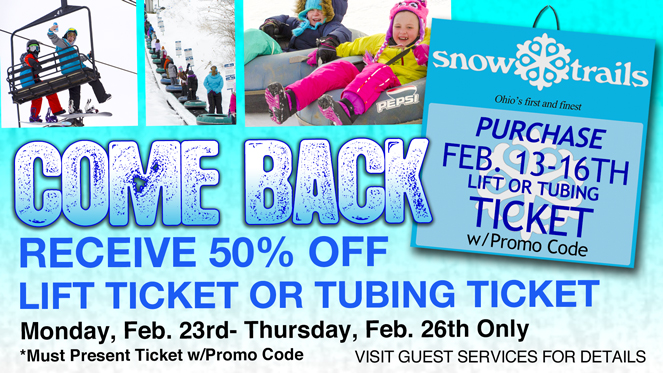 Plus, if you purchase a Lift Ticket or Tubing Ticket this Presidents Day Weekend (Feb. 13-16th) be sure to check-out the Promo Code offer printed at the base of your Ticket. "Come Back" Monday, February 23rd through Thursday, February 26th to Receive 50% OFF your Lift Ticket or Tubing Ticket when you present your Ticket with Promo Code!!
Tags:
apparel
,
family adventure
,
gear
,
group lessons
,
holiday
,
kid friendly
,
kid programs
,
kiddie tubes
,
kiddos
,
late night
,
mansfield
,
ohio
,
private lessons
,
sale
,
save 25%
,
ski lesson
,
ski lodge
,
ski ohio
,
ski shop
,
skiing
,
slopes
,
snow sports
,
snow sports instructors
,
snow tubing
,
snowboard lesson
,
snowboard ohio
,
snowboarding
,
snowmaking
,
snowtubing
,
snowtubing ohio
,
special needs
,
the adaptive adventure sports coalition
,
tubing park
,
weekend
,
winter fun
---
« Back to General