Improvements and Snowmaking Test for 2015-'16 Season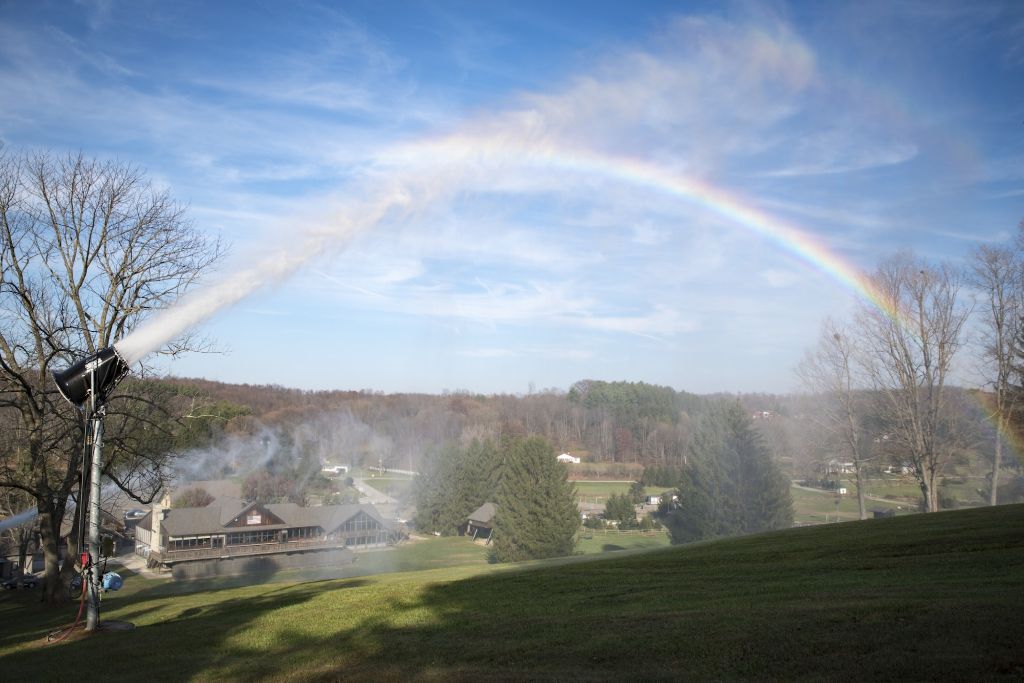 Preparations are being made for the coming winter season! We fired-up the SMI Super Pole Cat Snow Guns for a proper test this week. Believe it or not, we were able to make snow last year at this time, so we figured it would at least be a nostalgic event.
No Arctic Outbreak rolling through just yet, but you can be sure we are ready to make massive amounts of snow when the temperatures are right. We look for temps to dip below 29 Degrees Fahrenheit and Relative Humidity at or below 60% is favorable. Signs of winter weather in Ohio typically arrive in late November. Around Thanksgiving is typically the target for our first snowmaking campaign of the winter season.
We have a number of improvements related to keeping our Resort tip-top:
Chairlift Tower Painting of select lifts

Chairlift Maintenance and Updates to include Sheave Train and Bull Wheel rebuilds of select lifts for smooth operation and rides.

New Chairlift Operator Huts at select lifts

Additional Rental Equipment to include Skis, Snowboards, and Boots for Adults and Kids added to our 9,000 sq. ft. Rental Center

Remodel of The Last Run Bar & Deli in our Main Ski Lodge, with brand new Draft Beer Tap System and expanded coolers, for volume, efficiency and speed of service

New Large Coin Lockers in Rental Center

Newly remodeled Restrooms in Main Ski Lodge

New Sound System in our Main Ski Lodge

Snowmaking Pump Rebuild 1 of 4

General Facilities Upkeep

Planted 30 New Pine Trees throughout the Resort
Last season was a fantastic one. Despite a few bitter cold days, it was an incredible 101 day season for us. We were able to begin snowmaking on November 13th, which was the earliest in our history of snowmaking thanks to the Arctic Outbreak. This made it possible to open the day after Thanksgiving. Given we were the only resort open in Ohio for three weekends in a row, we truly appreciated hearing from many of you, expressing your appreciation for our efforts and dedication to Ohio skiers and snowboarders. We were happy to provide a fantastic season, thanks to winter temperatures that rolled-in and stayed throughout. Here's to more of the same and another great one soon to come!!
---
« Back to General