February's Lineup of Special Events, Competitions, and Entertainment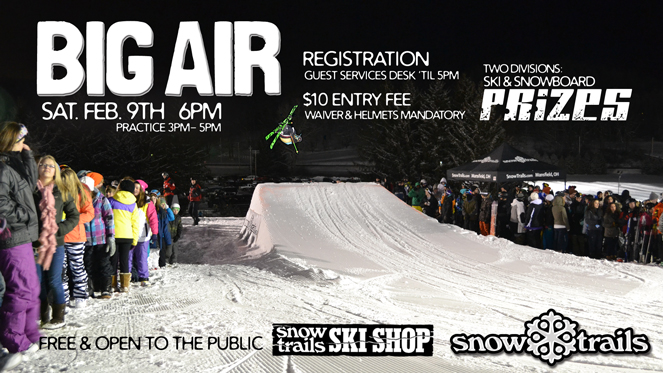 For Immediate Release
February's Lineup of Special Events, Competitions, and Entertainment
MANSFIELD, OH, February 8, 2013: Snow Trails enters February with an action-packed lineup of special events, family-friendly festivals, competitions and entertainment worthy in themselves of a trip to Snow Trails. On the slopes, skiers and snowboarders have been enjoying turns on all 17 trails thanks to state-of-the-art snowmaking systems and grooming equipment. Terrain parks are in mid-winter form awaiting upcoming competitions. The tubing park has hosted thousands of families on Ohio's longest tubing runs.
The festive atmosphere gets underway this Saturday, December 9th with the Big Air Competition and Live Music in The Snowflake Loft. Other upcoming Special Events and Family-Friendly activities, include:
Family Friendly Activities
Boy Scouts Weekend: Feb 9-10. 11th Annual Boy Scouts Ski Weekend at Snow Trails.
Late Night at Snow Trails - Friday, February 15, 2013
We will stay open late for you to Ski and Snowboard on the slopes until 2AM! The Vertical Descent Tubing Park is open until Midnight every Friday and Saturday throughout the season, however it will stay open until 2AM! Lots of fun to be had! Come-out and stay-up late with us!
Open Pass Week: Monday, February 25, 2013-Sunday, March 3, 2013
We are offering "Open Pass Week" to give those with passes to other resorts, the opportunity to come see what Snow Trails is all about. This means a free Lift Ticket on your day of choosing, February 25th through Sunday, March 3rd!
Bring your valid 2012-'13 Season Pass from ANY other resort to ski and snowboard here at Snow Trails for FREE* that day! Check-in at the Information desk in the main lodge to grab your FREE Lift Ticket upon arrival. *One Free Lift Ticket issued to you the passholder.
Competitions and Spectator Events
February 9, 2013
Big Air at Snow Trails: Saturday, Beginning @ 6:00PM
FREE & Open to the Public! The annual Snow Trails Big Air Competition sponsored by the Snow Trails Ski Shop will take place under the lights, on the Competition Slope at 6:00PM. Open to all skiers and snowboarders.
Divisions: Pro & Amateur, Ski & Board. (no specific age categories)
Registration: Friday - all day, Sat. 9:30AM to 5:00PM at the Information desk in the main lodge. Entry Fee: $10. Practice: 3:00PM- 5:00PM
Sunday, February 10, 2013
Giant Slalom Race - Race starts at 11:00am
Open to all skiers and snowboarders. Registration opens at 9:00am at the information desk. Entry fee $5.00. Two run combined time. Male & female classes.
Game of S.H.R.E.D. 1PM (finals on March 3rd, 2013)
This event is similar to the basketball game of "PIG." You will have to do the trick the person in-front of you does, if you don't land it you get a letter, when you spell "S.H.R.E.D." you are out for that round. The event will take place in The Woods Terrain Park.
Sat, February 16, 2013
Slopestyle Competition -. 1PM- The Woods Terrain Park
Snow Trails, The Snow Trails Ski Shop, and The Woods Park Crew will be holding a Slopestyle competition in The Woods Terrain Park on Saturday, February 16th. This event will be open to all skiers and snowboarders. Entry Fee: $10
52nd Annual Ski Carnival 2013
Sat February 23rd
11am: Sobe Kids Challenge, ages 3-9, Possum Slope.
12:30pm: Skier/Boarder Cross - open to all, Mt Mansfield Slope.
2pm: Yard Sale Pick-Up, 15 & under, Tubing Park
3pm: Chippendale & Bikini Race - 18 and over, Mt Mansfield Slope.
Sunday, February 24th
11am: Carnival Giant Slalom Race, Competition Slope.
12pm: Guest Carnival Costume Contest, Judging on Ski Lodge Deck.
12pm: Leinenkugel's Couples Fun Race, 21 and up, male & female team, Mt Mansfield.
1pm: Cardboard Creation Race, Tubing Park.
3:30pm: Mt Dew Slush Cup, Base of Competition Slope.
Entertainment & Nightlife
Guests are sure to find a show to fit their individual musical tastes this season. Join us for Live Music and Entertainment every Saturday Night** at Snow Trails, beginning Saturday, December 8th 2012 through Saturday, March 2nd, 2013. **All shows start at 9:00pm. 21 years of age and over only. Cover charge may apply.
Live Music -
Saturday, February 9, 2013, 9PM
"Acoustic Mayhem" in The Snowflake Loft
Saturday, February 16, 2013, 9pm
Band: Mad Gathering, The Snowflake Loft
Saturday, February 23rd, 9pm:
Band Shucking Bubba, The Snowflake Loft
52nd Annual Ski Carnival, Sat February 23rd
9pm: Band Shucking Bubba, 21 and over, The Snowflake Loft

About Snow Trails Ski Resort
Snow Trails Ski Resort is the perfect place for one-day family getaways that create lifelong memories. Snow Trails Resort is nestled on 80 acres in Mansfield, Ohio. The resort offers skiing, snowboarding and snowtubing winter activities. Snow Trails hosts numerous corporate meetings, weddings and social parties spring through the Fall.
The ski season runs through Mid-March, weather permitting. The resort is located off Interstate 71 south of Mansfield, OH on Possum Run Road. For more information call 800-OHIO-SKI, visit the website at www.snowtrails.com, or find us on Facebook and Twitter.
# # #
Contact:
Nate Wolleson
Marketing Manager | Snow Trails
3100 Possum Run Rd. Mansfield, OH 44903
marketing@snowtrails.com | 419.756.7768 x108
SnowTrails.com | Facebook.com/SnowTrails
Media Resources
Snow Trails History and Facts:
Get To Know Snow Trails 1961- 2011, "Celebrating 50 years!"
Current Press Releases
Media Center Images selected for public use
Public Photo Gallery 2005 to date
Image Notes: Click on any thumbnail and image twice until the highest quality image is available for use. Simply right click on the image for download options. support@snowtrails.com
« Back to Blog