62nd Annual Ski Carnival
Saturday, February 25, 2023-
Sunday, February 26, 2023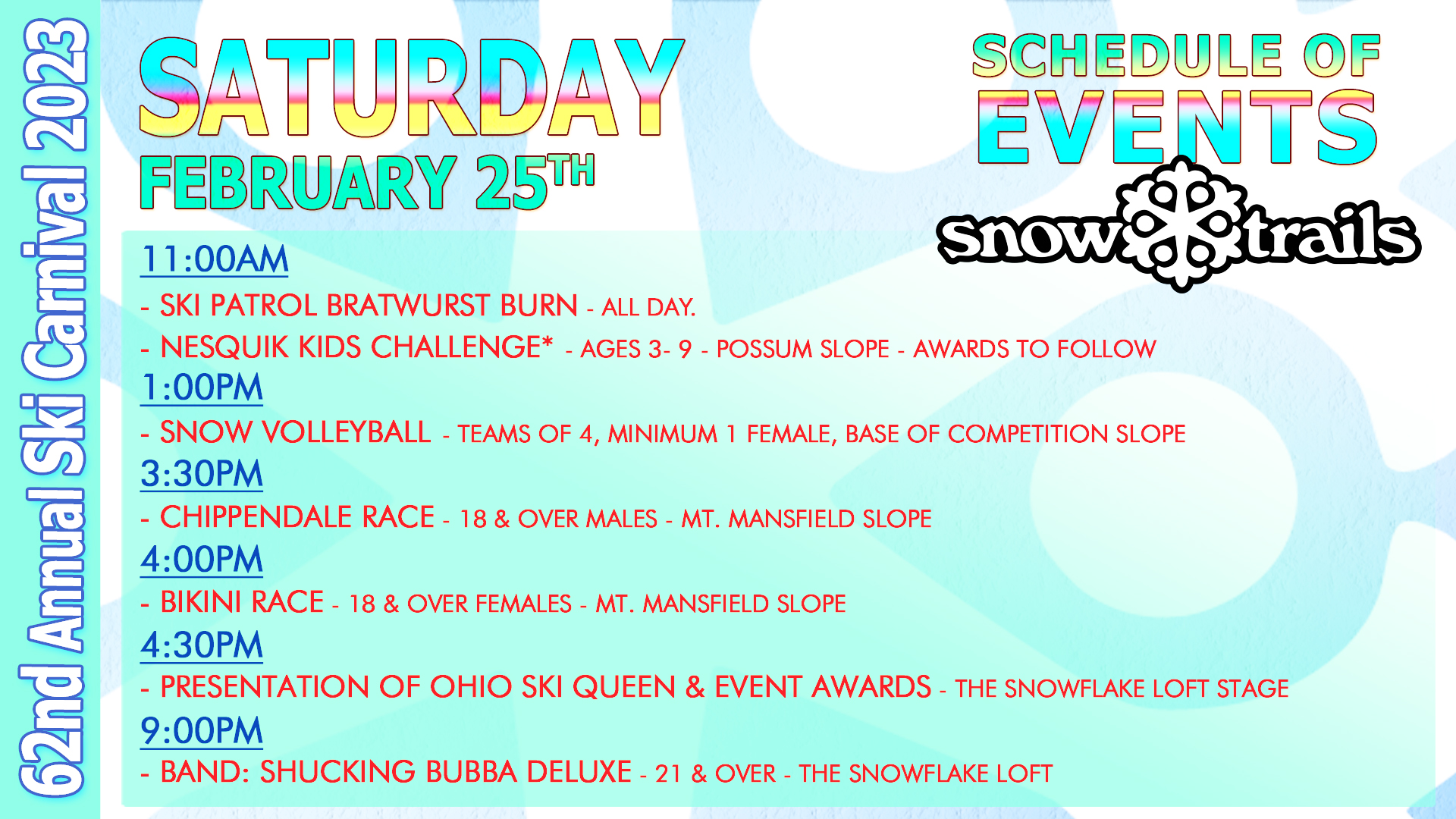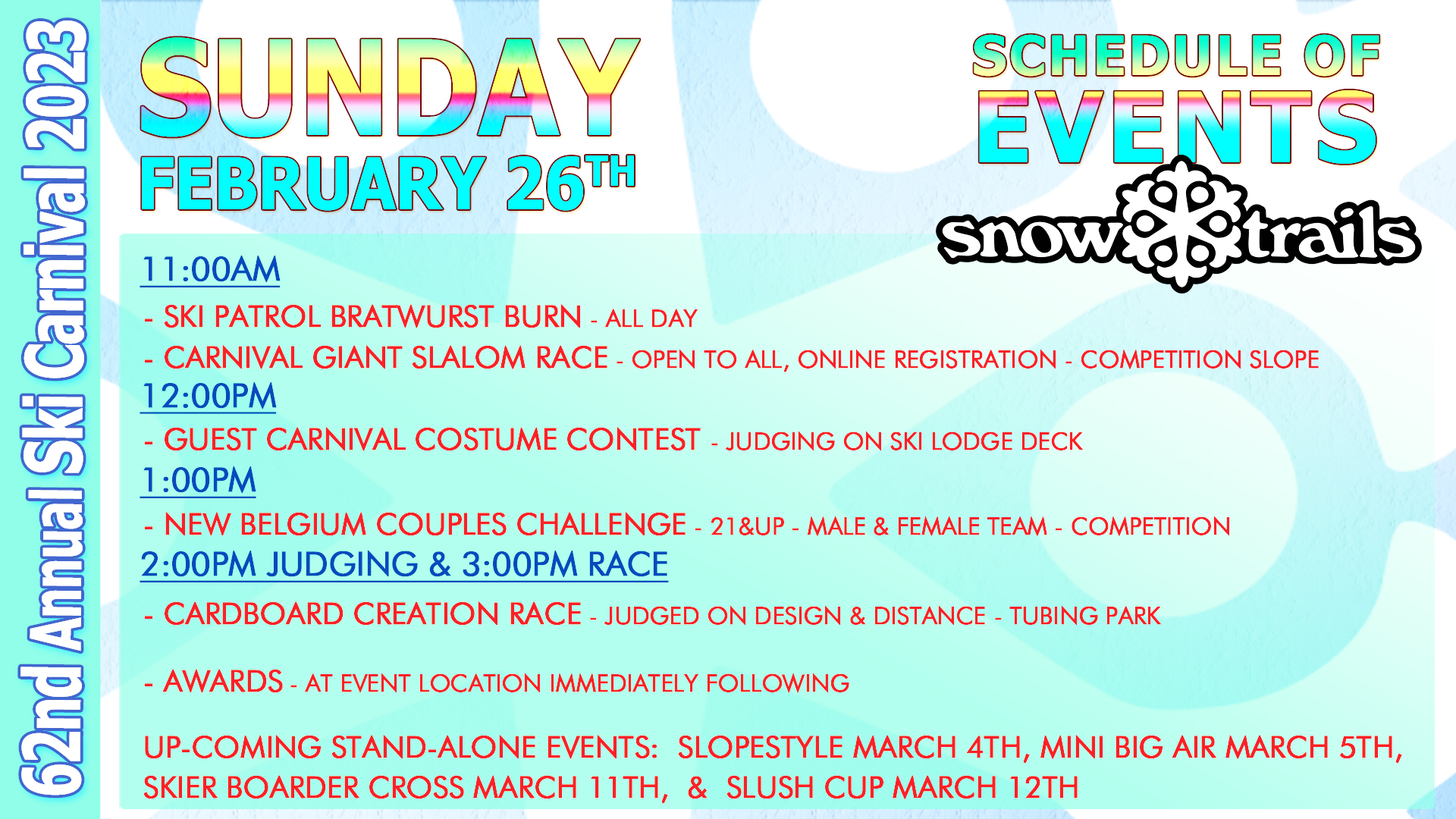 Advanced Bookings Required. Walk-Ups Unavailable.
Daily Lift Ticket or Season Pass Required to Register and Participate in Events.
Spectator Capacity Limited to Those Related to Participants.
Participation Is Focused On Those Registered For Events And Who Already Have Ticket Bookings/Reservations For The Day.
Registration & Entry Fees:
- Register at Guest Services up to a half-hour before each Event -
Nesquik Kids Challenge - $5
Snow Volleyball - $20 per Team of 4
Chippendale & Bikini Race - $10
Costume Contest - FREE w/Daily Lift Ticket
Fat Tire Couples Challenge - $20 per Team of 2
Cardboard Creation Race - $10 per Creation
Event Schedule Full Detail
Cardboard Creation Race Rules
Online Registration Required by 5PM Saturday, Feb. 25th For:
Giant Slalom Racers
GS RAcers - Step #1: Register ONline for NASTAR Race ID
GS RAcers - Step #2: REGISTRATION ONLINE ONLY: $15
Choose Ticket/Fee Option or Fee only
Then SELECT FEB. 26TH»
The Carnival offers everything from costumes to racing, brats and beer.

Ohio's premier resort for Skiing, Snowboarding, and Snow Tubing will host the 62nd Annual Ski Carnival as a two day event weekend on Saturday, February 25th and Sunday, February 26th. Carnival festivities have been celebrated since the very first season in 1961-'62 at Snow Trails. The Annual Ski Carnival has become a reunion for many over the years!
There is something for everyone, from the Kids Challenge, to the famous Bikini and Chippendale Slalom Races, plus the Couples Fun Race, Giant Slalom Race, and Guest Costume Contest. Our ever popular Cardboard Creation Race will take place in the Tubing Park as the final event of the weekend.
The Resort will open from 9:00AM - 9:00PM for regular skiing and snowboarding, as well as tubing, throughout the weekend. Advanced Online Bookings Required. Normal Lift Ticket Hours & Rates for Skiing and Snowboarding, as well as Normal Tubing Hours & Rates in Vertical Descent Tubing Park all weekend. Although the events and features are designed to add excitement and fun to the weekend, entry fees are separate from your Advanced Booking for the Slopes or Tubing, and you are not required to be an event participant.
The Skier/Boarder Cross and Slush Cup will again be stand-alone events on our Calendar toward the end of the season.
Check-out our last Ski Carnival:
61st SKI CARNIVAL 2022>> PHOTO GALLERY
---
« Back to Skiing
« Back to Tubing