Resort Improvements and Projects For 2021-'22 Winter Season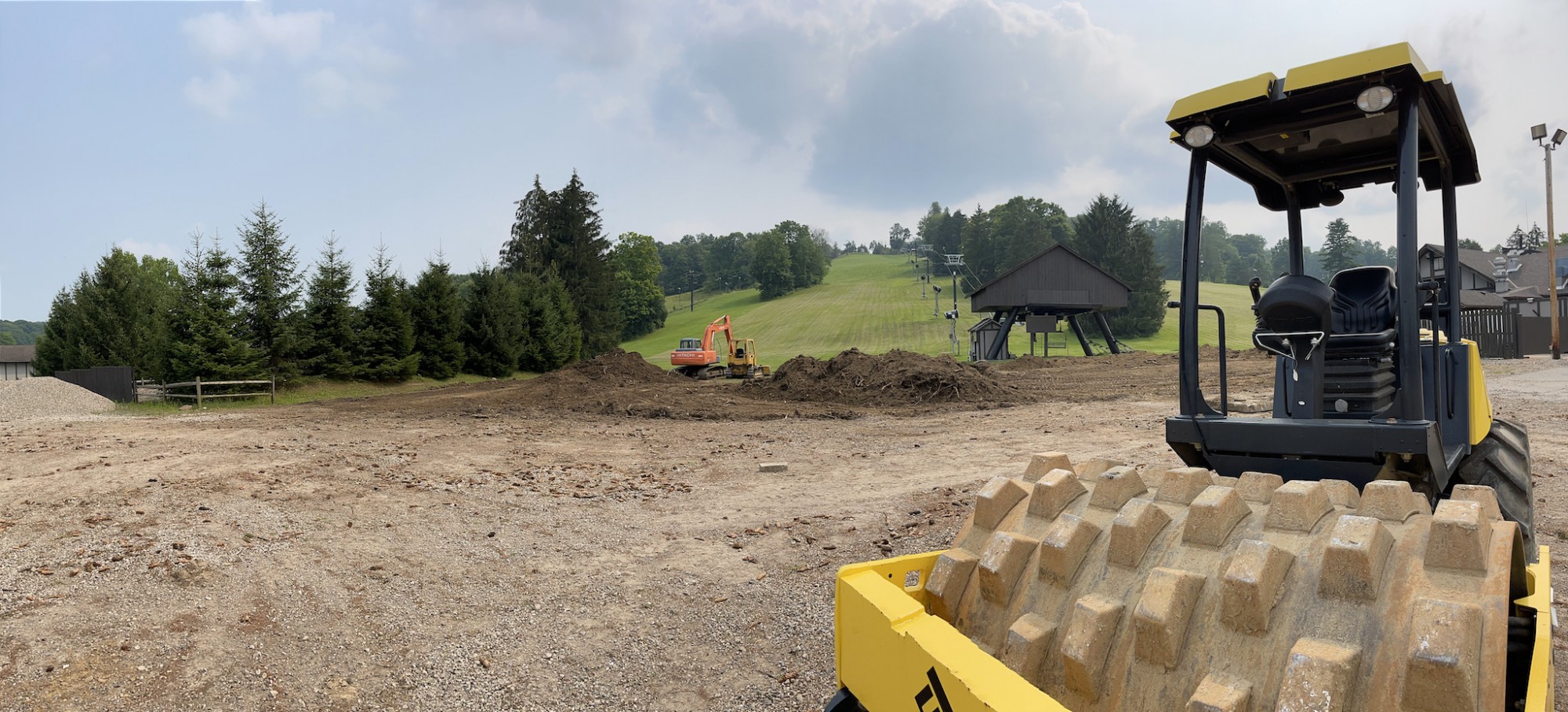 UPDATED 11-14-21
Projects and Improvements are wrapping-up from the Summer and some still underway this Fall. School is back in session and cooler nights are starting to make their way into extended forecasts. We hope you are as excited as us for consistent snowmaking temperatures this Pre-Season! We always shoot for our first campaign of the Season to begin around Thanksgiving if the weather cooperates. One thing is for sure, we will create a fun snow-filled atmosphere for you to get out here and enjoy!!
Our Team is taking full advantage of this off-season to be sure we can continue to provide you with a premier Resort experience this Winter! We're happy to showcase projects and improvements our Crew has been working on across the Resort to deliver on this promise:
New Additional Base Lodge - The "Valley Lodge" - Coming Soon
Under Construction...
...Base of Competition Slope
For additional indoor seating and restrooms here at the Resort, also accommodating carry-in food and space for Racing Program Activities.
Total 3,000 sq. ft.
Seating with beautiful views slope-side
Outdoor Patio Seating with Heaters
Race Timing and Scoring Room


Mt. Mansfield Triple Chairlift Tensioner
Hydraulic Tensioner added - counter weight removed to make room for New Lodge - reduces sag on the cable when lift fully loaded


Alpine Triple Chairlift
All New Crossarms and Sheave Trains for smooth rides
Lift Component Upgrades
Electronics, bearings, and more…
Lifts # 1, 3, and 5… CD drives and motors changed to AC, new PLCs, displays and wiring
Lifts # 4, 5, and 6 received all new sheave liners & bearings
Lift # 3 new top bull wheel bearings installed


Lighting Trails
22 LED Tower lights installed on Alpine Lift and Beginners Area
Upgraded LED Tower Lights on Mt. Mansfield Triple Chairlift for Competition Slope and Mt. Mansfield Slope
Snowmaking Addition of 5th Water Pump
Increased capacity by adding a fifth 300hp Vertical Turbine Water Pump in our Pump House to increase total max Snowmaking Water Flow to 5,500 GPM (5 @ 1,100 GPM)


New Snow Guns
Cross-Over Trails - for the first time there are now three SMI Tower Mounted Snow Guns in our Cross-Over Trails, for opening trails faster and recovery after warm-ups, allowing mobile Snow Guns previously used there to be utilized elsewhere! An SMI Super Pole Cat was also added to the Alpine Terrain Park and one SMI Pole Cat added to the base area of our Rustler Trail.
Water Wells Re-Drilled (4)
2 of the 5 Snowmaking production wells were cleaned for better performance
The potable water system well was cleaned & new pump installed for better performance.
GEO thermal well, pump size was increased to accommodate the New Lodge


Ski Lodge
Added 5 additional Radiant Heaters on Ski Lodge Deck
Remodeling Women's Restrooms on Main Floor and Second Floor of Ski Lodge
Remodeled The Last Run Deli kitchen for efficiency of food preparation, to include expanded counter and cooler space, two ice makers and bin, plus pizza prep table w/refrigerator
Ski Shop
Remodeled interior, new interior lighting, new windows


Parking Lot
Paved Parking Area behind Ski Shop and Entrance Drive - all the way passed those awful potholes!!!
Seal coat and stripe Parking Area East of Ski Shop - to be accomplished soon!
Worked on overall Parking Area – leveled, added gravel and compacted
General Upkeep
Added Generator – for backup power to the computer and phone rooms - Admin Building
Fresh paint on interior and exterior of many buildings


Tubing
State-of-the-art lighting upgrade coming for Glow Tubing this Season - better control of the flash colors and animation timing
Gravel added to the run out area to help decelerate speed of tubers in Finish Area and improved drainage with underground tile to prevent soggy conditions
---
« Back to Beginners Area
« Back to General
« Back to Seasonal Clubs
« Back to Skiing
« Back to Tubing