Slopes and Tubing Park This Week
With the forecasted wind chill temperature of -30 degrees Fahrenheit Tuesday, for the safety of our outside employees and volunteer Ski Patrol, Snow Trails will suspend operations Tuesday, January 28th. Guest Services will remain open from 10AM- 5PM, while Snow Trails Ski Shop will be closed. Snow Trails will reopen the Slopes beginning Wednesday, January 29th with Standard Hours 10AM- 9:30PM.
We have to admit it is as odd to us as it may be to you, each and every time we discuss if and when we should limit winter sports due to temperatures being too cold! It is not ideal, however it is what it is, so this time we are going to make it benefit you! We are going to offer a SubZero Lift Ticket Promotion! For "Each Degree (actual not wind chill) Below Zero Degrees Fahrenheit" recorded Tuesday, January 28th at Mansfield Lahm Airport, we will take $1 OFF your 8 Hour Lift Ticket on Wednesday, January 29th when we reopen the slopes. You must reference Promo Code: SubZero when purchasing your 8 Hour Lift Ticket (Not valid with any other offers).
Extreme cold has a greater affect on our crowds at Vertical Descent Tubing Park. Because of this, the Tubing Park will be unavailable today through Wednesday, reopening with Normal Hours beginning Thursday, January 30th 5PM- 9:30PM.
Please feel free to Contact Us if you have questions or concerns.
SubZero Promotion...looks like as of 3:52PM Tuesday, January 28th...you will get at least $15 OFF your 8 Hour Lift Ticket for tomorrow Wednesday, January 29th
Follow along to see if the discount will grow! Perhaps the only time you will be rooting for lower temps!
http://w1.weather.gov/obhistory/KMFD.html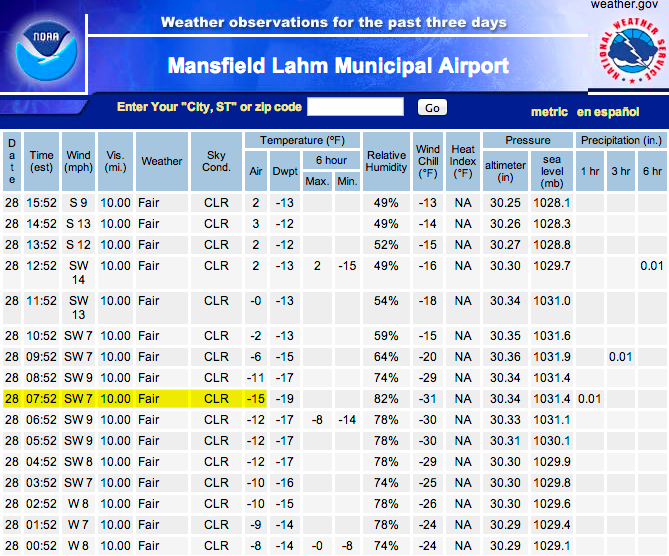 Tags:
discount
,
employees
,
guest services
,
lift tickets
,
mansfield
,
mansfield lahm airport
,
ohio
,
promotion
,
savings
,
ski patrol
,
skiing
,
snow tubing
,
snowboarding
,
snowtubing
,
special
,
subzero
,
tubing
,
weather
,
wind chill
,
winter
---
« Back to General