Beginner's Area Complex Now Complete
With a multitude of improvements here at Snow Trails Winter Resort last season, you may be pleasantly surprised to hear we did not stop there! Snow Trails has been hard at work this off-season as well, going above and beyond to deliver quality snow sports experiences in Ohio.
We hope you were able to enjoy our Snow Trails 2011-'12 Improvements, including the construction of our New 9,000 sq. ft. Rental Center, the addition of Timberline- "Longest Ski Slope in Ohio," New Cooling Tower for improved quantity and quality of snow during each snowmaking campaign, Twelve New Tower Mounted Snow Guns, New Children's Learning Center and more. The benefits of these improvements were evident during the challenging 2011-'12 winter weather season.
We have now completed "The Most User Friendly Beginner's Area Complex in the Region" at Snow Trails, including our newly placed Never Ever Carpet Lift to carry skiers and snowboarders to the top of the Never Ever slope, for confidence and skill building while sliding on this gradual grade of snow.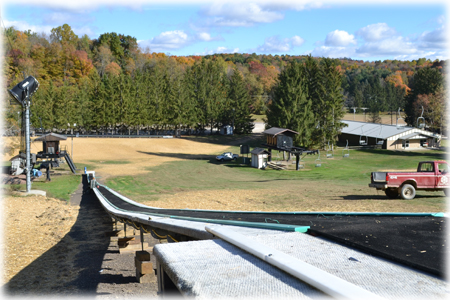 A New Beginner's Carpet Lift has been placed on the West side of the Complex's Bunny slope, for those skiers and snowboarders who would like to progress beyond the Never Ever slope. This will offer use of three quarters of the Bunny slope, for users to move up the progression ladder.
The third lift in the Complex is the Beginner's Double Chairlift. This introduces beginners to the methods of loading and unloading a chairlift. One in which operates at a slower rate of speed and is shorter in length, yet carries riders to the top of the Bunny and Possum slopes.
You will find our team of Snow Trails Snow Sports Instructors ready to help make your day a great one. Our Instructors are most knowledgeable, with PSIA (Professional Ski Instructors of America) certifications and skills learned during refresher clinics hosted throughout the year. Our instructors have a pure passion for introducing and furthering your skiing and snowboarding abilities. This is proven by utilizing modern techniques, teaching ease of use on ski and snowboard equipment, and taking your comfort levels into consideration.
Learning is made easy at Snow Trails, with state-of-the-art equipment found in our Experience Rental Center, the only one of its kind in Ohio, thanks to the Rossignol brand. Our vision for the Beginner's Area Complex is unsurpassed by any resort in the region. Snow Trails is excited to open for the 2012-'13 winter season, to provide you with "Ohio's Finest" winter sports experiences.
Check-out>> Snow Trails 2012-'13 Preseason Improvements Video
Check-out>> Snow Trails Photo Gallery- Preseason Improvements
---
« Back to General