VERTICAL DESCENT TUBING PARK: HOURS & RATES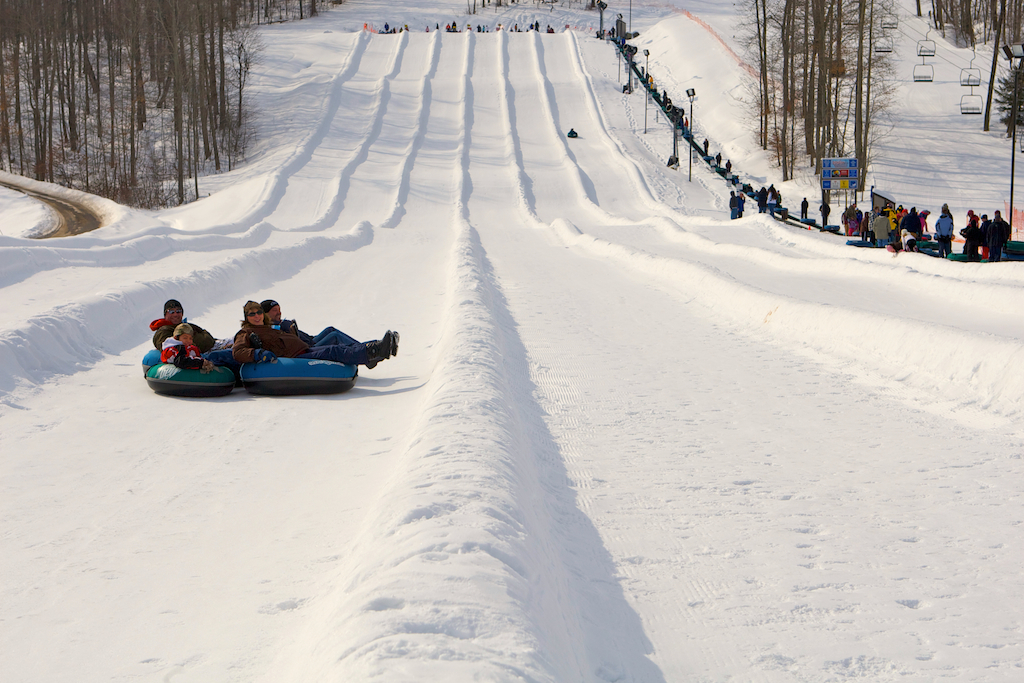 Snow Tubing is fun for the whole family during the winter months. The Vertical Descent Tubing Park is open December through March, weather permitting.
Be sure to check the Snow Trails Snow Report for updates on conditions and times as they relate to the Tubing Park.

Check Snow Report to Confirm If Tubing Is Available.
CLOSED FOR THE SEASON...
...SEE YOU NEXT WINTER
Late Night Snow Tubing until 2:00AM on Jan.20th, Feb.10th, and Mar. 3rd 2017
Glow Tubing - now three full weekends available in 2016-'17:
Jan. 20th, 21st, & 22nd
Feb. 10th, 11th, & 12th
Mar. 3rd, 4th, & 5th

The Snow Tubing Park will open December through March, weather permitting.
Prices and times are subject to change.
Tubing tickets are non-transferable. Quantity of Tubes is limited.
Tubing Tickets are not available for purchase online.
Friday- Sunday & Peak Days*
2hr Tubing Ticket $25
3hr Tubing Ticket $30
Ages 5 & Under Save $10
Extra Hour of Fun $10 at End of 2hr Session**
Monday- Thursday
Unlimited Tubing Ticket $22
Ages 5 & Under Save $10
Snow Tubing Season Passes
Interested in Unlimited Snow Tubing all winter long?
No Blackout Dates. Unlimited Access. Unlimited Fun!!
Learn More
Your Tubing Ticket - includes use of snow tube, tubing lanes, and tubing conveyor lift. Session starts when you receive your ticket. First come, first served. Last tubing ticket sold 2hrs before close.

*Peak Days: December 17, 2016 thru January 2, 2017, January 16 and February 20, 2017. The Resort closes at 5PM 12/24/16 and is closed 12/25/16.
**Limit one hour upgrade.