LIFT TICKETS & RENTALS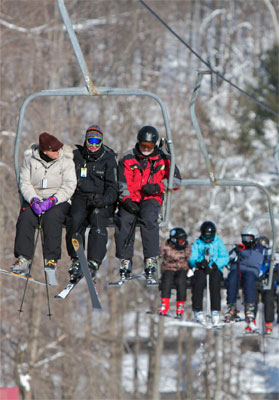 There are two Lift Tickets for Snow Trails lift and slope access.
Snow Trails offers the "All-Day" and "Evening" options. Also on select Friday's throughout the winter season we're making it possible to enjoy the slopes even longer with "Late Night Skiing."
LIFT TICKET OPTIONS

RATES

WEEKDAYS: (Monday- Friday)

All Day (10AM - 9:30PM)

$41
Evening (4:00PM - 9:30PM)
$31
WEEKENDS & PEAK DAYS*
All Day (9AM - 9:30PM)
$52
Evening (4:00PM - 9:30PM)
$42

Nighttime Special

(Sun.- Thurs. only 7PM - 9:30PM)
All Area Lift Ticket w/Equipment Rental. Not available during Peak Days.
$41**

Late Night

(10:00PM - 2:00AM)


Select Fridays: Jan. 20th, Feb. 10th, and Mar. 3rd 2017

Sold after 8PM. Upgrade from Weekday Ticket $10
$35

Equipment Rental

Skis, Boots, Poles or Snowboard and Boots

$37
Helmet
$10**

Discounts

Ages 6- 12 — Save $10 on Lift Tickets & Equipment Rentals.

Ages 5 & Under — Receive Free Lift Ticket with paying adult. Save $10 on Equipment Rentals.

*Peak Days: see dates listed on our Hours & Directions page for details.
**Ages 12 & Under discounts do not apply.