LIFT TICKETS & RENTALS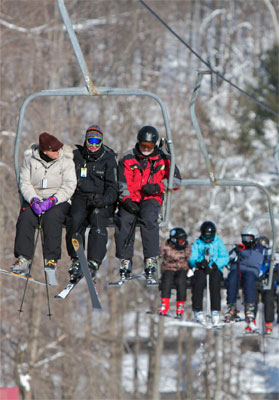 There are three Lift Tickets for Snow Trails lift and slope access. A newer option that caters to busy schedules is our 8 hour "Flex" ticket. This allows you to come at your convenience and access the lifts for the 8 hours of you're choosing, without the worry of getting here at the "right time" to get the best value!
Additionally, Snow Trails offers the "All-Day" and "Evening" options. Also on select Friday's throughout the winter season we're making it possible to enjoy the slopes even longer with "Late Night Skiing." See all the details below.
LIFT TICKET OPTIONS
TICKET ONLY

WITH RENTALS

WEEKDAYS: (NON-HOLIDAYS)

Adult
Child*
Adult
Child*
All Day
$38
$28
$73
$55
8-hour "Flex" Ticket**
$36
$26
$71
$53
Evening (5:00PM - 9:30PM)
$28
$18
$63
$45
WEEKENDS & HOLIDAYS***
All Day
$49
$39
$84
$66
8-hour "Flex" Ticket**
$47
$37
$82
$64
Evening (5:00PM - 9:30PM)
$39
$29
$74
$56

Nighttime Special

(Sun.- Thurs. only 7PM - 9:30PM)**** Includes Equipment Rental. Not available during Holiday Period.
n/a
n/a
$38
$38
Late Night Select Fridays*****
Jan 9th, Jan 30th and Feb 13th (10:00PM - 2:00AM)
$35
$20
$70
$47

*Child - 12 and under
**Upgrades: 8-hour Ticket to an All Day Ticket $5 charge
***Holiday Hours: Visit this page for holiday hours of operations
****Nighttime Special: Sunday through Thursday only. Sold as package only and not available during Holiday Period.
*****Late Night- On Selected Fridays extended Late Night hours for Skiing, Snowboarding, and Snow Tubing, from 10:00PM- 2:00AM. Late Night Ticket Upgrades Sold after 8PM. Upgrade from your day's ticket for only $10. Visit this page for a listing of this season's Late Nights