HOURS & DIRECTIONS

Review our Snow Report
for Daily Hours and Conditions
---
SKI SLOPES
Now OPEN
Click for Rates> Lift Tickets & Equipment Rentals
Weekends & Peak Days* 9:00AM- 9:30PM
Weekdays (Monday- Friday) 10:00AM- 9:30PM
SNOW TUBING
Opening Day Friday, December 16th 5PM-Midnight
Click for Rates> Vertical Descent Tubing Park
Friday 5:00PM- Midnight
(Friday, Jan. 23rd & 30th 9:00AM- Midnight)
Saturday 9:00AM- Midnight
Sunday and Peak Days* 9:00AM- 9:30PM

Monday- Thursday 5:00PM- 9:30PM
---
*PEAK DAYS 2016-'17
Extended Hours Dec. 17th- Jan. 2nd,
MLK (Jan. 16th) and Presidents Day (Feb. 20th)
---
Late Nights
Extended Hours on the Slopes and in the Tubing Park
Fridays: Jan. 20th, Feb. 10th, and Mar. 3rd 2017
10:00PM - 2:00AM
---
GUEST SERVICES HOURS
Pre-Season & During Suspended Operations:
Monday- Friday 9AM- 4PM
Saturday 10AM- 4PM (Beginning Oct. 29th to Opening Day)
Sunday - Closed
In-Season:
Opening Day through End of Season - Same Hours as Slopes
---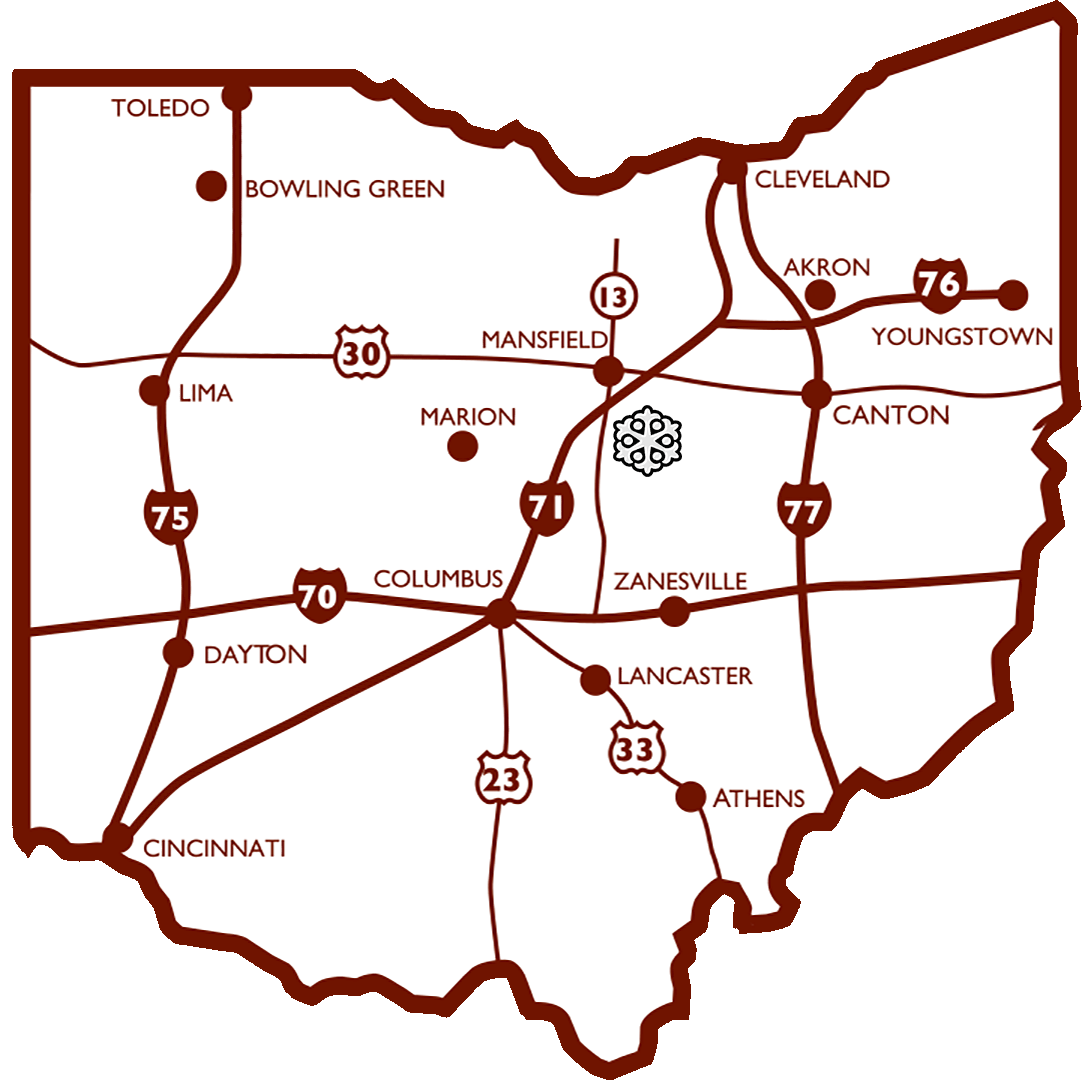 A LITTLE DRIVE FOR A LOT OF SNOW!
Take a route connecting with Interstate 71, turn off I-71 at the Mansfield-Bellville
(Route 13) Interchange (Exit 169). Look for our Snow Trails signs and follow Possum Run Road. You'll find our resort nestled in the Possum Run Valley, just 1.5 miles off I-71.
Call Guest Services: 1-800-OHIO-SKI
3100 Possum Run Road Mansfield Ohio 44903
Get Driving Directions to Snow Trails
Cleveland Metro Ski Council Races
Sat, Jan 28 - Sun, Jan 29
Mid-Season Party
Sat, Jan 28 - Sun, Jan 29
Band: CT4
Sat, Jan 28 - Sun, Jan 29
Band: No Regrets
Sat, Feb 4
Big Air Competition
Sat, Feb 4
Standard Races- Open to All
Sat, Feb 4
USASA SnowOhio #1
Sun, Feb 5
Tweets by @SnowTrails