Scion Snow Tour: Under The Lights
Friday, February 18, 2011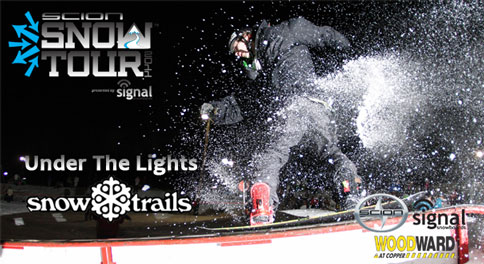 Snow Trails will play host to the Scion Snow Tour:
"Under The Lights"
6PM Rail Jam Competition- West Woods Terrain Park
FREE to ENter Comp!
Must have Parent/guardian sign waiver if under 18!
judged by Signal Snowboard Team Riders
Pros, sponsored by Signal Snowboards...
...will judge you in this Rail Jam Competition "Under The Lights" for the coveted prize:

Scion Snow Tour Snowflake- custom glass artwork courtesy of A Graham of Glass dimensional glass art
Signal Snowboard
Swag and other phenom prizes from Scion, Signal, and Snow Trails!
Enter for your chance to WIN
FREE Session at Woodward Copper
Also Enter "night of" in the West Woods Terrain Park
Not enough???
Happening Alongside:
College Day saving you 50% All Day & Late Night 'til 2AM!!!!
We've placed the event on the perfect day, with College Day saving you half-off throughout the day and into Late Night 'til 2AM! We'll party it up in The Snowflake Loft, following announcements of Scion Snow Tour: Under the Lights at Snow Trails winners, with a legit College Day Red Bull DJ Party!
Snow Trails and PBR have teamed-up to giveaway a set of K2 PBR Brewskis and K2 PBR Snowboard, during the College Day Party!
« Back to Calendar