Shred for a Cure
Sunday, January 30, 2011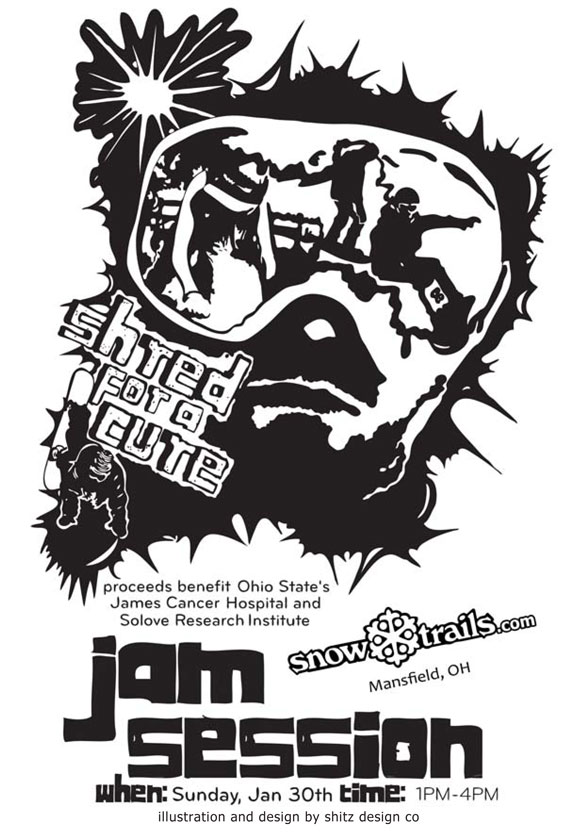 Shred For A Cure is a slopestyle competition in a Jam format, also with DJ and food so come out and just chill even if you don't plan to ride. It will be held January 30th from 1PM- 4PM. If you compete you get a free T-shirt! and there will be some pretty sick prizes. There will also be a raffle so non-riders can win too! T-shirts, with the design seen above, will be sold at the event, for $10. If you cant make it to the event and would still like a t-shirt you can contact, Cailin Klein at niliacklein@gmail.com. All the proceeds go to the James Cancer Hospital, for cancer research, so its worth it! So come out January 30th and support cancer research!!!
Beginning at 1PM in the West Woods Terrain Park
OPEN TO THE PUBLIC
Register at Snow Trails Information Desk
You don't Have to session the park to come-out and join-in this great cause!

Sign-up at Guest SErvices, Pay $10:
All proceeds benefitting The Ohio State james Cancer Hospital and Solove Research Institute
INcluded:
50/50 Raffle Ticket
Food Included: Burger, Chips, and Drink
Party Pad: DJ Music and Shenanigans
Free T-Shirt for Jam Session participants
Jam Session: Show-off your stuff, in a Judge Free Environment!
If participating in Jam Session: Helmet and Signed Waiver Mandatory
Download:
Minors must have a WAIVER signed by a parent or guardian
Party in the Park #3 Feb. 20th- Go Now...
« Back to Calendar