Snow Trails Opening Day Friday, November 28th- White Friday Slopes and Tubing Park
November 24, 2014
This Friday, November 28th will mark Opening Day for the 54th Winter Season at Snow Trails. The Slopes and Tubing Park will open for skiing, snowboarding, and snow tubing for all ages 10AM- 9:30PM! Join us for "White Friday" at Snow Trails... and if you can't stand to go without shopping for the day, pop-in to the Black Friday Sale at Snow Trails Ski Shop.
We are honored to offer early season skiing, snowboarding, and snow tubing in Ohio! This will be just the fourth time Snow Trails has opened the week of Thanksgiving in our 54 season history!
Snow Trails is dedicated to offering guests the best snow conditions, on-snow experiences, and resort atmosphere! Being the only ski resort in Ohio committed to snowmaking in November - privately owned and operated, dedicated to making the best decisions with you our guests in mind - Snow Trails began the first #STsnowmaking campaign on November 13th 2014. This campaign is the earliest on record! The success has been incredible, beginning 13 days earlier than last year's record start, and producing more early season snow in a given 24hr period than ever before!
The Arctic outbreak that began in early November allowed us to not only make a ton of snow across the entire resort and tubing park, but it has also allowed us to announce opening day prior to even beginning snowmaking last year! On average Snow Trails opens the second week in December, with the Tubing Park following in mid-to-late December - requires additional snowmaking for construction. This year's snowmaking success is allowing a fantastic opportunity to open Snow Trails Vertical Descent Tubing Park at the same time as the Slopes, and for the very first time in November!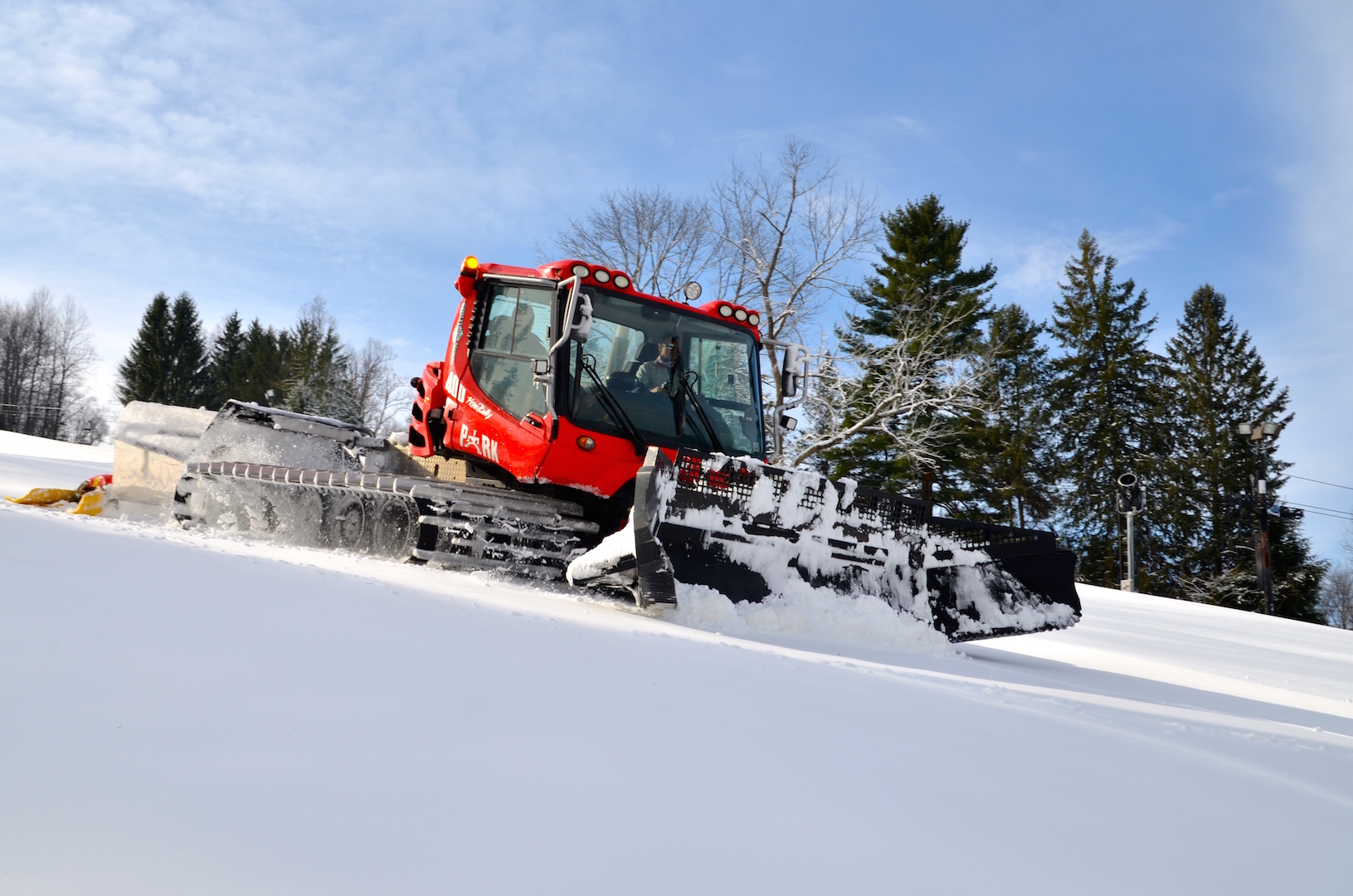 Snowmaking will continue this week as our first, second, and third shift operators jump in our fleet of Pisten Bully Snow Cats to go to work on the massive piles of snow blanketing the resort. They will push and groom the snow with these specialized machines, shaping and prepping terrain for Opening Day.
Such success is partially attributed to Snow Trails Cooling Tower. This is an advantage in Ohio, with the capability of reducing snowmaking water temperatures by 13 degrees Fahrenheit before sending through our massive pumping system and out to each snow gun strategically positioned across the resort. Snowflakes form faster, with less cure time needed, thanks to the colder water being supplied through the Tower. This increases the window of opportunity as well as the volume and quality of snowmaking in marginal temperatures and below. It is all about Snow Trails Quality Snow Standard!
Snow Trails will offer you nearly 100% of terrain for Opening Day, with additional terrain available as temperatures allow snowmaking to continue. Snow Trails Snow Report will list chairlift, slope, tubing park, and terrain park availability each day. Terrain Park features will be available in Alpine Terrain Park for Opening.
We are pumped for Opening Day and Weekend!! Guessing you are too!?!
Use #SnowTrailsOH to Join the Conversation, plus while you are here at the resort see your posts feed across our HDTV at Guest Services, in the heart of our Ski Lodge.
Slopes & Tubing Park- Hours of Operation
Opening Day- Snow Trails 54th Winter Season
Friday, November 28th
10AM- 9:30PM
Opening Weekend
Saturday, November 29th & Sunday, November 30th
9AM- 9:30PM
(Likely to see operations suspended during the week of Monday, December 1st. Stay tuned for details.)
Snow Trails 2014-2015 Season Passes
Lift Tickets & Equipment Rental Rates
Snow Sports Lessons Available
Private Lessons- All Ages
Group Lessons- 9yrs & Up
Children's Programs Open December 20th
Snow Trails 2014-'15 Trail Map
Snow Trails Ski Shop will be open, with Black Friday Special Savings and great selections throughout weekend.
Snow Bucks Gift Cards to Snow Trails- Holiday Shopping Made Easy!
Live Entertainment- The Snowflake Loft at Snow Trails
Begins with Kick-Off Party December 13th and every Saturday Night through March 14th 2015.
News Archive
Related Topics
« Back to News