Snow Trails Opening Day Soon To Be Announced
November 19, 2014
Check-back for details on our 2014-2015 Opening Day at Snow Trails!! The forecast for a short-lived warm-up will allow for an Opening Day announcement to be made by Monday afternoon (11/24).


Round-the-clock snowmaking resumed Monday evening with massive amounts of snow being made through mid-day today! So much so, we were forced – good problem to have – to set snow guns to oscillate, spreading the snow further across the slopes. We had the largest pumping day in our history yesterday. We pumped an average of 4,000 GPM (gallons per minute) for 20 hours straight, totaling 5.7 million gallons of water!! Huge!! The success was attributed to temperatures in the teens allowing for full-power snowmaking!!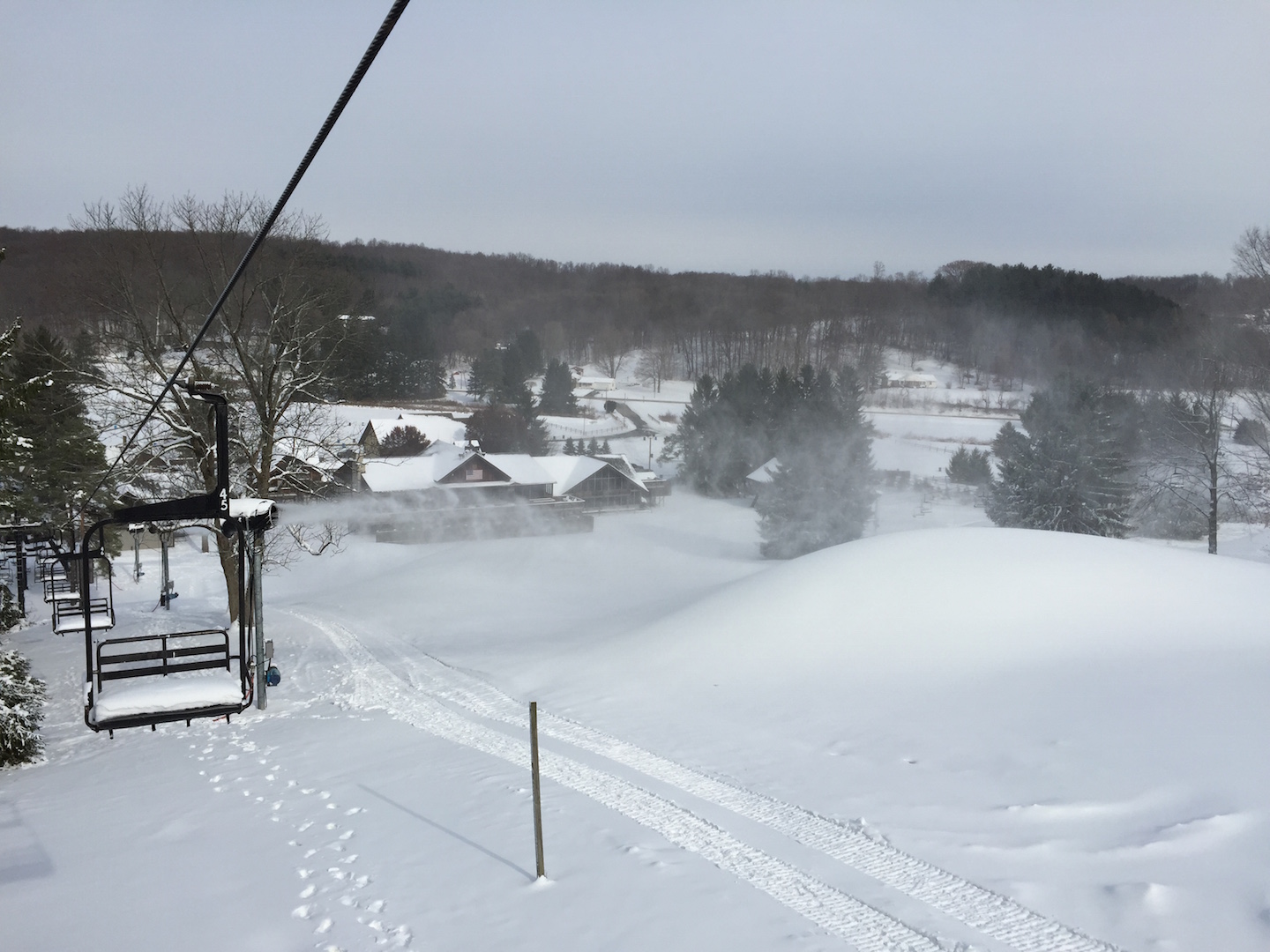 We have never seen it like this in November. The success of our snowmaking campaign is shown in the piles of snow growing so large, the 2D characteristics of a photo can barely tell the story! The decision has been made to begin pushing some of the piles out and shaping the slopes and tubing park to allow for more snow to be made on-top.
November's Arctic outbreak will be one to remember, in the #STsnowmaking record books!!
Something pretty cool is happening for Terrain Park riders this Friday & Saturday!
>>November Rail Jam presented by The Woods Terrain Park Crew
Jym Ganahl - Chief Meteorologist - NBC4i.com
Wednesday, November 19th 2014
"Alberta Clipper is passing north of us today, these always have wind and gusts are 30 mph. Ahead of them winds are from the SW so it warms briefly (day or night) and when they pass winds turn NW (day or night) and temperatures drop. So expect two more colder days with highs in the 20s and lows in teens. Only snow flurries for our area. The next storm will track from New Mexico to Michigan Sunday and we will get strong SW winds again and this time warm into the 50s for 2 days. Rain showers and wind also with this system but in it's wake arctic air will drive southward across the area for Thanksgiving Week with the surge Thanksgiving and next Friday bitterly cold again with snow showers.
Snow Trails will make snow the rest of this week and be able to make snow much of next week, including round the clock later in the week to try to be open for Thanksgiving Weekend for only the 4th time ever so early. Buckeye Lake and the Olentangy River already have ice forming!
Tonight Blowing snow, black ice patches, flurries 17
Tomorrow Few flakes and colder 27
Tomorrow night Clearing and frigid 10
Friday Sunshine but cold 26
Saturday Cloudy and milder 17/40
Sunday Showers and windy 37/54
Monday Showers, wind, falling temperatures 44/54
Tuesday Flurries and colder 33/40
Wednesday Partly sunny and cold 28/39
Thanksgiving Snow showers and cold 25/35
Friday Snow showers and cold 10/27"
Keywords:
arctic
,
chairlift
,
forecast
,
mansfield
,
nbc4
,
ohio
,
opening day
,
resort
,
slopes
,
snow guns
,
snowmaking
,
winter fun
,
winter resort
News Archive
Related Topics
« Back to News