Ski The Remainder of This Season FREE!
February 15, 2012
If you have never been a Snow Trails season passholder, then we have a special offer for you! You can ski the remainder of this 2011-'12 Season for FREE, with a maXpass purchase!
A Snow Trails maXpass is for sure, THE pass built just for you! Our maXpass is for new passholders only and is the least expensive pass we offer for the value, because you can use it the rest of this season AND all of the 2012-'13 Season for just $270! Compare this to a Standard Pass for 2012-'13 at a price of $345, which does not include the Bonus: Remainder of this Season FREE! It is our pleasure to offer this to you, to get you on the slopes free this season, and guarantee your fun next season!
Now Available for Purchase:
Snow Trails maXpass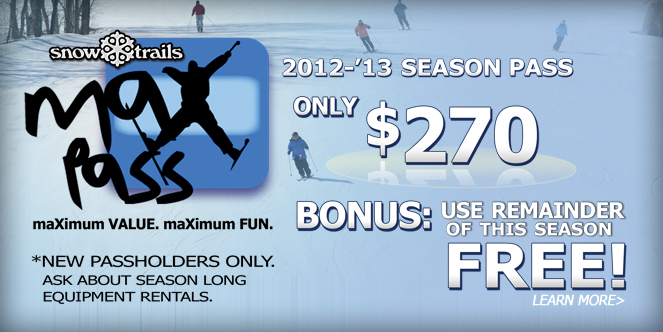 « Back to News