New and Improved Snowmaking
October 18, 2011

Dedicated to enhancing your experience, Snow Trails has bolstered the snowmaking system yet again, with the addition of 12 New Snow Guns, to be utilized for the NEW Timberline Trail- "Longest in Ohio," and the top of West Woods Trail. To feed this massive snowmaking system, over a mile of trench was dug to install welded underground steel piping used to supply not only these new snow guns, but to improve water supply to Alpine and Rustler Trails, along with snaking miles of copper wire through underground conduit to bring the new snow guns to life!
With a 38% increase in snowmaking capacity, an increase in total water pumping capacity was a must. To accommodate this, Snow Trails got creative. Back in April of 2011, when many were catching Spring fever, we were already implementing Upgrades and Improvements for 2011-'12 winter season. A new 300hp variable speed electric motor, to sit-atop a NEW Snowmaking Water Pump, was ordered to increase pumping capacity by 30%, above and beyond the capacity of our three existing snowmaking water pumps.
With increased pumping capacity, comes the thirst for more water! Because we drained, cleared, and filled one of our snowmaking ponds to make room for another major addition, found at the base of the Beginner's Area, you will learn more about in the coming weeks, Snow Trails set-out to have a NEW 2,000 GPM (gallon per minute) Water Well drilled to feed the system.
Requiring this much snowmaking water from a Well, even when pumped up-and-out in the middle of winter, is not the efficient water temperature we demand, to produce quality snow conditions you come to expect from Snow Trails. So, Snow Trails installed a NEW Cooling Tower, which is the "First Industrial System of its kind, used in the Midwest for Snowmaking!" This will instantly cool the water pumped from the well, to send through the massive system and out to each snow gun, resulting in efficient snowmaking...
...shhhhewwww, deep breath...ultimately enhancing your experience here at Snow Trails!!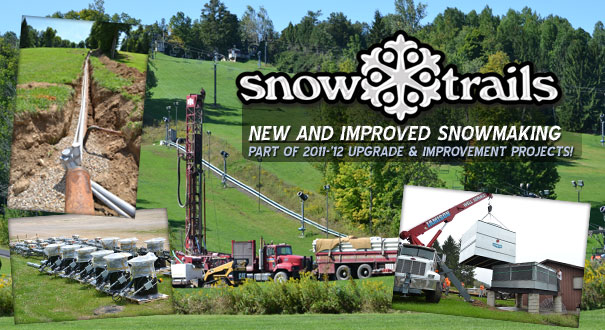 News Archive
Related Topics
« Back to News